"

I always look forward to projects produced by Ben Winship at The Henhouse; I know that the results will be musical and well crafted, and it makes my job real easy."
—  David Glasser, Grammy Award winning engineer, Airshow Mastering
Microphones 
Neuman U-47 
Neuman TLM-170 
Neuman KM-84 
Neuman KM-85 
Neuman KM-184 
Neuman U-87 
Earthworks TC 30K (2) 
Royer R-12 
Audio Technica 822 
Audio Technica 4033 
Coles 4030 
AEA KU5A 
Senheiser MD 409U3 
Senheiser 421 
Senheiser 602-II 
Audix SCX 25A 
Audix SCXone 
AKG C418 (2) 
AKG D112 
AKG 414 ULS 
CAD NDM 11 
Sure SM 7 
Sure SM 81 
Sure 520DX 
Sure SM 57s & 58s (just in case)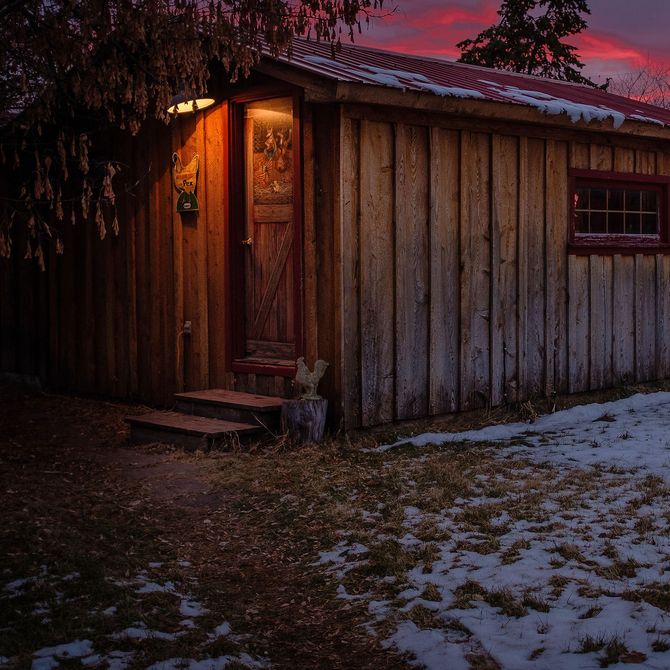 The Henhouse Studio
"It is a pure joy to record at the Henhouse. Ben helps us bring out our peak performance – a relaxing space, good energy and someone you can always get along with."
– Anne Sibley, Recording Artist
"I've used Ben's Henhouse on my own projects as well as on many works for hire and I'm always pleased with the sounds he gets. Ben's a top-notch engineer with a good ear and it's a comfortable place to record."
– Mike Dowling, Grammy Award-winning guitarist
The Henhouse is Ben Winship's recording studio, located in Victor, Idaho. It is an accurate mirror of his basic outlook – low key, relaxed, yet aesthetically pleasing, organized, and capable of meeting the highest standards of the audiophile.
Located in the Winship's backyard amongst the apple trees and garden, the studio is a simple structure featuring an acoustically balanced control room, a larger tracking room and an iso booth. However, the heartbeat of the operation is not so much the fancy electronics and high tech computer technology, but Ben's easy going demeanor which seems to put performers in their most natural creative space.
There is a certain amount of experience required to know which mic to use or how set the knobs, but the greatest challenge for most sessions figuring out how to make the performers relaxed, empowered and able to really enjoy the experience. Every session has its own challenges whether it's a solo singer-songwriter recording for the first time, a rock band who wants to play everything live in the same room, or  say, a complex mix that involves multiple overdubs and imported files from a studio in England.
"I really think recording is equal parts art, magic and science",  says Winship, "and I try to honor each of those elements when I work. Every musician has different concerns and strengths and I enjoy the process of figuring out which recording method is going to work best with each client. Beyond the engineering, I am often asked to produce or co-produce, and sometimes to play on people's projects. So it's a very collaborative process. Once the working relationship is created, then it's a matter of deciding how hard to push, when to take breaks, how much coffee to drink, which jokes to tell…"
The list of projects coming out of the Henhouse is vast and various. Toping the list are acoustic-based roots recordings – that's in line with the kind of music Ben most frequently plays. However, the Henhouse also routinely turns out soundtrack music, jingles, Voiceovers, audiobooks, instructional recordings, overdubs for overseas clients, as well as CD projects in a wide range of styles from classical, jazz and rap to funk, blues and techno.
From the spec side, the Henhouse is built around a Mac-based, Protools HD system. A typical signal path starts with new or vintage mics, fed by a Grace, Great River, Neve, Avalon, Chandler, La Chapelle and Universal Audio preamps, running into Protools. Additional processing (outboard and inboard) by Summit Audio, Waves, Bomb Factory, SoundToys, Serato, TL Electronic, Lexicon, Antares and Digidesign. The Henhouse microphone closet features an impressive list of go-to mics and some obscure mics for special applications (below). Reference mixes are A/B'd on everything from top shelf Genelec speakers to mid level near field monitors, to various headphones and crappy Radio Shack bookshelf speakers.