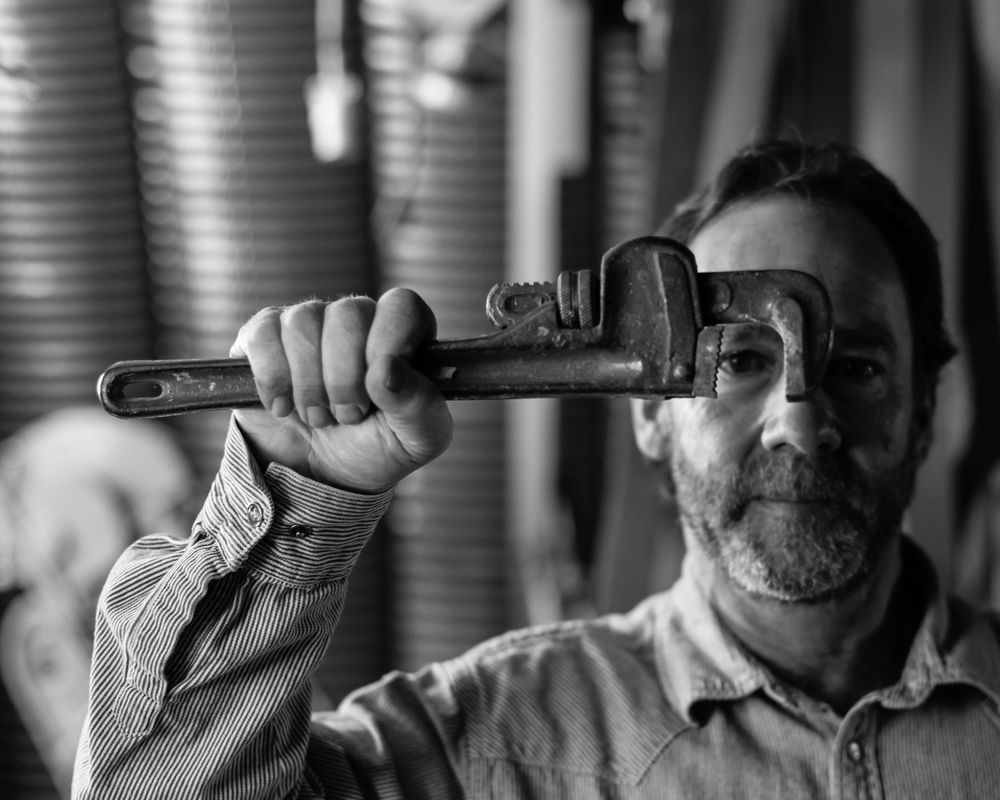 Ben Winship is a self-made musician who has carved out a niche for himself behind the potato curtain* and under the radar of commercial music. His routine is a constantly shifting mix of performing, recording, engineering and teaching. Mandolin is Ben's primary ax, but he is also a well respected songwriter, singer and multi-instrumentalist. 
Winship's version of string band music is an exploration of crossroads; where raw meets refined, original meets traditional, weird meets familiar, organized meets free ranging. The Boston Globe called his sound "A further leap from traditional hill country music." While Tim O'Brien refers to him as "One of the acoustic music scene's best writers." 
Performance-wise, Ben can most often be found on stage with the Growling Old Men (duo with John Lowell), or Eli West. He occasionally plays with Brother Mule (the acoustic power trio with Brian Wicklund and Eric Thorin) and in a local dixieland band, Jackson 6. Over the past 25 years, gigs have taken him everywhere from Hawaii to Shetland, Anchorage to Equator, with appearances along the way at places like the Telluride Bluegrass Festival, Strawberry Music Festival, A Prairie Home Companion and the Vancouver Folk Festival. 
As a family man, with a wife and two teenaged boys, Ben is no longer the road warrior he once was. A greater percentage of his time is now spent in the studio – engineering and producing CDs, recording his own music and teaching. 
A few other pieces of the story: 
• Despite countless hours driving around with windows down, running a chainsaw and lighting off cherry bombs, Ben's hearing is still pretty good. 
• Recorded a song for Mike Dowling that WON A GRAMMY in '05 in the "best pop instrumental" category. 
• Has a BS in Forestry from UVM 
• Founding member of the popular neo-bluegrass band Loose Ties which toured and recorded between 1986-1996. 
• Has a homemade pizza oven, sauna and fish smoker in back yard. 
• Former member of Kane's River. 
• Has recorded two award winning CDs of fishing related songs: Fishing Music I & II 
• Teaches an ever growing body of budding mandolin students at home and at workshops throughout the US, Canada and the U.K. 
• Has had his music and soundtracks featured on MTV, ESPN, NPR, Sirius, XM and unusual places from environmental documentaries to the World Café and Car Talk. 
• Plays a lot of music late at night with Thomas Sneed. 
• Honored with a Performing Arts Fellowship from the Idaho Commission on the Arts in 2003 and 1990 for his contribution to the performing arts in Idaho 
• Used to compete in contests and racked up trophies from Kerrville, Winfield, Telluride and Kentucky Fried Chicken Festivals – but doesn't like to do that no more. 
• Plays fabulous hand built mandolins by A. Lawrence Smart, Michael Heiden and Fletcher Brock. 
• Endorses Elixir Strings. 
* potato curtain = Teton Valley, Idaho